Today, I am Thankful that God has my back. In fact, Scripture says that God goes before me.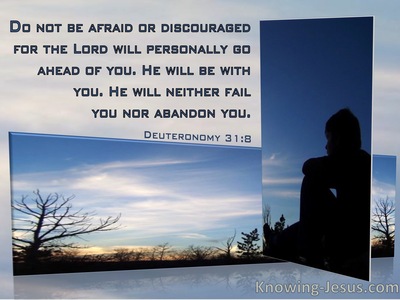 There are actually many verses. Thirteen of them come to mind, that say that God goes before you.
One verse is Isaiah 45:2 "I will go before you and make the rough places smooth;
I will shatter the doors of bronze and cut through their iron bars".
God is with us but God also sends Angels to help, protect and guide us. Did you ever hear of Guardian Angels? In the Catholic Church children were taught to pray to their Guardian Angels especially at bedtime. Were you one of them? If so, do you remember:
Angel of God, my Guardian dear, to whom His love commits me here, ever this day (or night) be at my side, to light and guard, to rule and guide. Amen.
I forget about them and this simple prayer now because they aren't spoken of much. Or maybe it's because I've gotten old and other things cloud my mind.
According to Scripture Angels are VERY REAL.
Did you know that Angles are mentioned 250 times in the Bible? Each angel has a special mission on earth. God relies on them to be His messengers and to serve mankind. In the Old and New Testaments we are told that Angels actually communicated with people like Abraham, Moses, Jacob, Gideon, Daniel, the Virgin Mary, Zechariah, and Joseph.
If it happened in the Bible why not now? Do you believe in Angels? Have you seen one or thought one helped you or guided you in some way? I sometimes feel like someone has my back and helps me, like when I have a close call or when I've lost something and I find it. I think maybe an Angel is helping me. Sounds silly…or does it? I've asked God to send out an army of Angels to fight against evil, to help soldiers, police and firemen, to fight the evil we see in our streets and in the world. If you ask me, I believe… because the Bible tells us so.
Angels have a divine mission to Praise and Glorify God, to take care of the people on earth and to particularly help those that are experiencing a crisis. I think most of you will agree that the entire world is experiencing a crisis.
Even if you survived the past 10 months rampage of covid 19 without loosing your job, your financial security, your business, your homes or, heaven forbid, a loved one, you still have some form of PTSD. I would call that a crisis.
We are all doing our best to survive this invisible foe, but if Scripture says that God sends Angels to care for people and help those in crisis, wouldn't it be safe to say that "THERE ARE ANGELS AMONG US".
We may not see them but they are real. Just as the virus is invisible but real. So who better to see what our eyes can not see or understand? Who better to fight an invisible battle? I believe God and His Angels are working on our behalf in the unseen realm. God knows. God sees everything, even when we can't see farther than our fingertips.
In a world where it's difficult to tell truth from lie or who's good and who's not, God knows. In a world where we don't know where or how hard the virus will hit next, God Knows.
When we keep holding on but can't seem to see the light at the end of the tunnel, God is THE LIGHT.
In a world where identifying which end is up or down because what was normal has been turned on it's head, God knows. In a world where the lines of morality and truth are blurred and we don't know how to fix it, God knows. When we don't know how we are going to survive another day and tomorrow looks so overwhelmingly ominous, God knows and He has an Army of Angels at His Command.
"For He will command His angels concerning you to guard you in all your ways. On their hands they will bear you up, lest you strike your foot against a stone." -Psalm 91:11-12
"Do not forget to show hospitality to strangers, for by so doing some people have shown hospitality to angels without knowing it." -Hebrews 13:2
God will send out an army of Angels to find you in the middle of this crisis… your crisis. He will climb mountains and walk through deep caverns to find you in this storm. Pray and He will hear you. Send out an SOS and He will find you and even if He needs to send out an army of to help you…He believes you are worth saving.
Who knows what tomorrow may bring. God does and no matter what, I believe tomorrow will be filled with Angels. Watch for them.
JOHN 14: 27 Peace I leave with you; my peace I give you. I do not give to you as the world gives. Do not let your hearts be troubled and do not be afraid.
AMEN. So Let It Be Done. In Jesus Name I Pray.
Blessings, VICTORIA